Dogs that are left alone for long periods of time tend to get bored due to lack of exercise and mental stimulation.  This often leads to anxiety and unwanted behaviours such as barking and destructiveness, causing stress for both the dog and owner.  Our Dog Walking service provides an affordable option to ensure that your dog has some time to burn off both physical and mental energy during the day, so that you can come home to a relaxed and happy pet.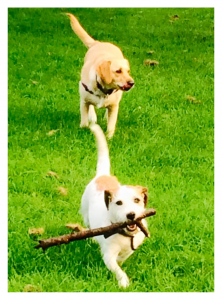 Prior to your first booking, we will call to your home to meet you and your dog(s).  We will chat to you about your dog – their likes, dislikes and quirks! – and tailor our service to ensure that they have the most enjoyable walks possible.  On the day of a walk, we will pick up your dog from your home and walk them either individually or with other compatible dogs (with your prior agreement).  All walks are on-leash unless expressly agreed in advance.  Off-leash walks will be considered where your dog has a very reliable recall.  When we bring your dog home we will ensure that they have a supply of fresh water and if you wish to leave a towel out for your dog on wet days, we will towel them off before we leave.
If you only require our services occasionally, you are welcome to book individual walks.   For regular customers we offer discounts for multiple walks per week.  Prices include collection and drop-off within the Lucan area – other areas may incur a small additional charge to cover travel costs.
Individual Bookings:
1 hour walk – €20
45 min walk – €17
30 min walk – €12
Additional dogs – €5 per dog
Discounted Prices for Block Booking:
3 x 1 hour walks per week – 10% discount  (€54)
4 x 1 hour walks per week – 15% discount  (€68)
5 x 1 hour walks per week – get 5th walk free!!!  (€80)
Additional dogs – €5 per dog